Programme for Sunday, 18th June 2017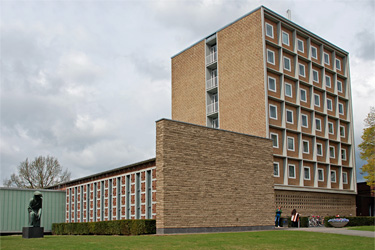 From 1 pm till 4.30 pm: IALB committee meeting
IALB committee meeting in the academy "Franz Hitze Haus".
---
From 2 pm – 5.30 pm: arrival and registration
Arrival and registration in the conference office:
Katholisch-soziale Akademie Franz Hitze Haus
Kardinal-von-Galen-Ring 50
48159 Münster
www.franz-hitze-haus.de
---
From 3 pm till 4.30 pm: Entertaining tour of the ancient downtown area
You will receive some important information about the historic milestones of Münster's past. Münster Cathedral is situated on a small hill in the heart of the city. This cathedral belongs to the most magnificent churches in Münster and is the most important city landmark, besides the historical city hall. The central city square "Prinzipalmarkt" borders the cathedral and features a lot of scenic houses and archways. This is Münster's traditional economic and political centre, with the historical city hall and the "Friedenssaal", where the Peace of Westphalia was signed in 1648. Several exclusive boutiques and restaurants are based here. The "Prinzipalmarkt" is the core of Münster's city life. It welcomes political guests and is the backdrop for lively city festivals. Visitors enjoy going for a walk, while shopping in luxurious boutiques and spending a great time. The church "Lamberti-Kirche" is situated at the northern end of the "Prinzipalmarkt". It is the oldest late gothic church in Westphalia. Each night, except on Tuesdays, the "Türmerin" climbs the stairs of the church tower and blows her horn once every 30 minutes between 9 pm and midnight.
Duration: 1.5 hours
Meeting point: 3 pm in the inner courtyard of the city hall, "Platz des westfälischen Friedens" (Chillida-Bänke)
---
From 6 pm till 10 pm: Welcoming event
We are happy to invite you to a Westphalian evening in a relaxed atmosphere at the "Bildungszentrum Gartenbau und Landwirtschaft" (educational institution for horticulture and agriculture) in Münster-Wolbeck. We are already looking forward to meet you in the inner courtyard of the centre for horticulture and to introduce you to the typical savoir vivre of the Münsterland. With delicacies from the restaurant "Kiepenkerl" and a typically Westphalian buffet, we are going to put you into the right mood.
Departure at 5.30 pm: a bus shuttle will take you from the academy "Franz Hitze Haus" (FHH) or bus stop "Aegidiimarkt"
Return at 10.15 pm: bus shuttle no. 1 from Wolbeck to FHH/bus stop Aegidiimarkt
Return at 11 pm: bus shuttle no. 2 from Wolbeck to FHH/bus stop Aegidiimarkt