International consulting Conference in Münster, Germany successfully completed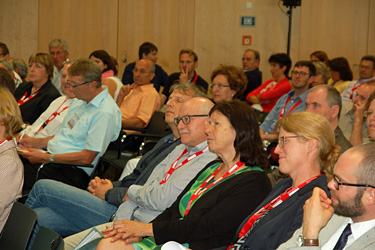 The meeting of agriculture economic consulters in Münster organized by the Agricultural Chamber of North Rhine-Westphalia with 360 participants from 14 countries was a great success. The topic of the conference "Changes in agriculture and consulting – new possibilities in the view of globalized markets and regional demand" has provoked much interest, even apart from North Rhine-Westphalia.
The conference started with a symposium introduced by Jan Grossarth, business reporter for the German newspaper "Frankfurter Allgemeine Zeitung", Peter Spandau, department manager for business administration, architecture, energy & staff consulting of the Agricultural Chamber of North Rhine-Westphalia and Martin Schulze Lohoff, farmer in the region of Münster. In the subsequent workshops the topic of the conference was discussed specifically in regard to environmental protection, animal welfare, markets and policy. During the excursions the participants experienced firsthand what possible solutions already have been implemented at the farms in the region. New ideas and consulting tools were presented at the poster exhibition to an international audience.
After the first comments and opinions of the participants, the organizers draw a positive conclusion and determine that the North Rhine-Westphalia agriculture and the Agricultural Chamber of North Rhine-Westphalia presented themselves in an excellent way to an international audience.  
Instructions for participants
In your conference folder you will find a link under the photo of the organizing team to the Google photo album.  More than 500 photos of the conference are now available. The presentations will be available at the IALB Website soon. 
Thank you for being our guests in Münster!