Nursery Stock Growing Support System - sensor-based management in ornamental plant production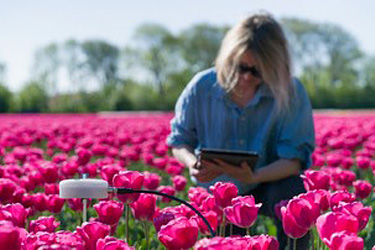 Development of a radio-supported sensor system for more efficient and resource-conserving crop management in outdoor ornamental plant cultivation - a project of the European Innovation Partnership "Productivity and Sustainability in Agriculture" (EIP-AGRI)
Project Information
Due to increasing climatic extremes, such as extreme heat, the outdoor production of ornamental plants is particularly challenging. Additionally, the production facilities are often not located directly next to the companies, which makes the plant monitoring even more demanding and time consuming. In order to relieve the burden on highly specialized farms and to ensure the long-term competitiveness of European ornamental plant production, the EIP project Nursery Stock Growing Support System is developing a radio-based sensor system as part of an international consortium, which will support the grower in stock control. The system will automatically transmit crop management data, such as soil moisture percentage, to an electronic end device (e.g. mobile phone) so that irrigation operations can be planned and controlled immediately over long distances. Compared to greenhouse production, the market-available sensor technology is not reliable for outdoor cultivation of potted plants and is thus not used in practice. Accordingly, a reliable and user-friendly sensor system is needed to advance digitalization in horticulture.
Project Goals
In the short term: a relief for the workforce
In the medium term: a saving of resources in form of water, agrochemicals and energy as well as an improvement in irrigation quality
In the long term: more sustainable, competitive ornamental plant production
Grant Recipient
Chamber of Agriculture North Rhine-Westphalia,
Members of the Operational Group
The international consortium combines scientific research, entrepreneurial innovation and practical know-how.
Associated Partners
Entrepreneurial circle of Hydrangea & Entrepreneurial circle of Perennials: Practical expertise
Period of funding
01.01.2020 - 31.12.2022
Contact person at the Chamber of Agriculture North Rhine-Westphalia
Project leadership: Peter Tiede-Arlt
Project engineer: Nele Marx
Landwirtschaftskammer Nordrhein-Westfalen
Research Center Straelen / Köln-Auweiler
Hans-Tenhaeff-Straße 40/42
47638 Straelen
Phone: +49 2834 704170
E-Mail: nele.marx@maillwk.nrw.de
Funding
The project is financed from the programme for the promotion of projects within the framework of the European Innovation Partnership "Productivity and Sustainability in Agriculture" (EIP Agrar), which is an integral part of the NRW Rural Area Programme 2014-2020 and is jointly funded by the EU and the state.
Further information on the projects of the European Innovation Partnership (EIP Agrar)
Autor: Nele Lang