Phosphorus recycling in organic farming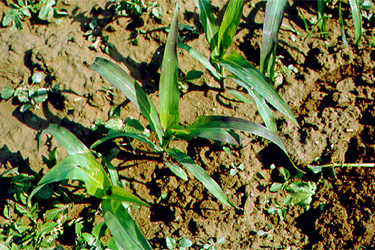 Alternative phosphorus fertilizers (P-recyclates) to increase the yield of legumes and cereals in organic farming (short name: Öko-P) - A project of the European Innovation Partnership "Agricultural Productivity and Sustainability" (EIP-AGRI)
Project information
The EIP agri Focus Group Organic Agriculture has found that on many organic farms phosphorus in particular has become a limiting factor in crop yield formation, because the supply of phosphorus is essentially limited to soft rock phosphates and organic fertilizers.
Especially in highly specialized organic farms, the sale of the produced food and feed causes a phosphorus deficit in the internal nutrient cycle. Often, attempts are made to compensate for this deficit by fertilizing rock phosphates. The use of imported rock phosphates is controversial because rock phosphate deposits are finite, which contradicts the cycle concept of organic farming. Depending on their origin, rock phosphates also contain considerable amounts of lead, cadmium and uranium, which are introduced into the soil with fertilization and absorbed by plants. Rock phosphates are also problematic in terms of production because of their low plant availability.
Recycled fertilizers containing phosphorus could replace the controversial rock phosphates in organic farming. Some products from wastewater treatment (recycled P fertilizers) have already been tested for their effect, but not yet in practice in the field under organic farming conditions. The phosphorus must be available to plants during the course of crop rotations common in organic farming. Plant availability is often not given with rock phosphates and is therefore a problem for sufficient yields.
In this project, different methods for the application of such new recyclate P fertilizers under organic farming conditions are tested. The fertilizing effect will be investigated on three practice farms with different placements of the fertilizers. The aim is to establish the recyclate P fertilizers in an innovative overall concept that makes sense for ecological crop rotations. The innovative overall concept is to be tested for its effectiveness, economic efficiency and sustainability.
The findings are intended to offer solutions to challenges in organic farming, especially with regard to efficiency per acreage. Project results will be communicated to farmers in special workshops and at field days. As the global P reserves that can be mined are finite and most rock phosphates have to be imported from non-EU countries, price increases for P fertilizers are likely in the medium term. As a result, alternative phosphate fertilizers could also become interesting for conventional farms.
Project goals
Manufacturer-independent testing of the effectiveness, safety and economic suitability of recycled P fertilizers under practical conditions of organic farming.
Development of recommendations for the use of recycled P fertilizers.
Support for the approval of recycled P fertilizers in the event of a positive test (fertilizer law, EU eco-regulation).
Grant recipient
Chamber of Agriculture North Rhine-Westphalia
Members of the operational group
Chamber of Agriculture of North Rhine-Westphalia (lead partner), Department of Organic Farming
Bingen University of Technology, Chair of Soil Science and Plant Nutrition, Prof. Dr. Thomas Appel
Farm Mühlenhof, Halle
Farm Kroll-Fiedler, Warstein
Farm Haus Holte, Dortmund
Associated partners:
Farm Gut Körtlinghausen, Rüthen
Farm Höfferhof, Much
Period of funding
01.02.2020 – 31.10.2022
Contact person at the Chamber of Agriculture North Rhine-Westphalia
Hannah Fischer
Gartenstr. 11
50765 Cologne
Phone: +49 221 5340-487
E-mail: hannah.fischer@lwk.nrw.de
Funding
The project is financed from the programme for the promotion of projects within the framework of the European Innovation Partnership "Productivity and Sustainability in Agriculture" (EIP Agrar), which is an integral part of the NRW Rural Area Programme 2014-2020 and is jointly funded by the EU and the state.